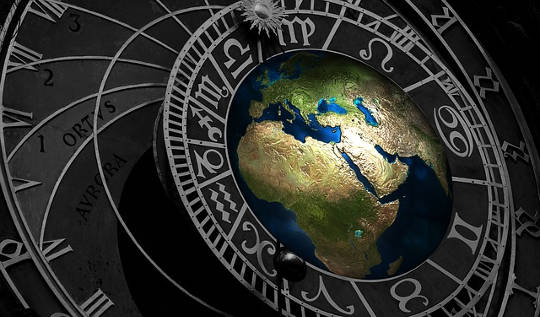 Astrology – June 2017 Horoscope
May 26, 2017
---
By Mr. Astrology
The summer solstice begins at 9:24 PM (PDT) on June 20th, 2017 in the Northern Hemisphere. At this time, the Sun pauses over the Tropic of Cancer on its trek north and then continues on, heading south towards the equator. "Solstice" comes from the Latin words sol and sistere, meaning "sun" and "standing still." This significant event is celebrated in many spiritual and cultural observances around the world.
Taurus April 21-May 21 On the 2nd your ruling planet Venus teams up with pioneering Uranus. You enthusiastically welcome all that is new, exceptional and uncommon during this time. On the 6th Mercury enters your 2nd house of resources, indicating a preference for a more practical and rational approach in regard to your finances.
Gemini May 22-June 20 On the 13th your ruling planet Mercury squares off with Neptune. Communications may seem to be blocked. Utilize patience. All situations come to a resolution eventually. The Sun enters your 2nd house of resources on the 20th. What gives you contentment, your sense of security, and what you attach importance to are emphasized during this period.
Cancer June 21-July 21 On the 4th assertive Mars enters your 1st house of self, giving you energy, self-confidence, and drive. Your ruling planet the Moon also enters your 1st house on the 23rd. As is your desire, so is your will. As is your will, so is your deed. As is your deed, so is your destiny!
Leo July 22-Aug. 22 Your ruling planet the Sun forms an advantageous configuration with original Uranus on the 18th. Your spirit yearns for fresh new experiences! On the 21st communicative Mercury races into your 12th house of solitude. Your artistic sense gives you remarkable perceptions!
Virgo Aug. 23-Sept. 22 On the 5th Venus enters your 9th house of journeys and higher learning. You could have an encounter with someone quite unlike yourself! Your ruling planet Mercury harmonizes with Jupiter on the 13th. The focus under this influence is favorable for spiritual growth and expanding the frontiers of your consciousness!
Libra Sept. 23-Oct. 22 The Moon enters your 3rd house of communications on the 9th. Now would be a good time to explore further education and development of new skills. On the 20th your ruling planet Venus is in a favorable angle to Neptune. Truth, compassion, faith, and imagination are themes that characterize this transit.
Scorpio Oct. 23-Nov. 22 On the 20th the Sun enters your 9th house of journeys and higher learning. The next four weeks provide an opportunity to examine your life from a larger perspective. Imagine the possibilities! Venus creates an advantageous alignment with your ruling planet Pluto on the 24th. The energy you have given to solidify a partnership has been well worth it.
Sagittarius Nov. 23-Dec. 21 The Sun harmonizes with your ruling planet Jupiter on the 3rd. Spiritual interests such as meditation or yoga are favored. You seem protected by divine providence! On the 6th Mercury enters your 7th house of partnership. Making atonements with your friend or lover will be satisfying.
Capricorn Dec. 22-Jan. 20 On the 1st Venus creates a favorable configuration with your ruling planet Saturn, suggesting the possibility of taking a love relationship to the next level! Venus enters your 5th house of romance and children on the 5th. Be prepared for increased love, passion and excitement in your life!
Aquarius Jan. 21-Feb. 19 Mercury is in a beneficial formation with your ruling planet Uranus on the 20th.  Your mind is razor sharp!  Under this influence perceptions arrive seemingly from out of the blue! On the 4th Mars enters your 6th house of health and service. This alignment can assist you in working effectively. Roll your sleeves up and get cracking!
Pisces Feb. 20-March 20 On the 5th gracious Venus enters your 3rd house of communications. Socializing at this time is very gratifying. Assertive Mars harmonizes with your ruling planet dreamy Neptune on the 25th, inspiring your instincts, empathy, and hopeful yearnings.
Aries March 21-April 20 On the 4th your ruling planet Mars enters your 4th house of home and family. Clearing up miscommunications with relatives seems to be important. Venus forms a beneficial angle with your ruling planet Mars on the 9th. Taking the initiative in close personal interactions feels satisfying during this transit.
The summer solstice marks the longest day and the shortest night of the year. Nature is flourishing as we unite with life and people. We sense our own persona through the impressions we get from others. It is a time to sow seeds that will be reaped in due course. Have a great month, and always remember: Keep looking to the stars!