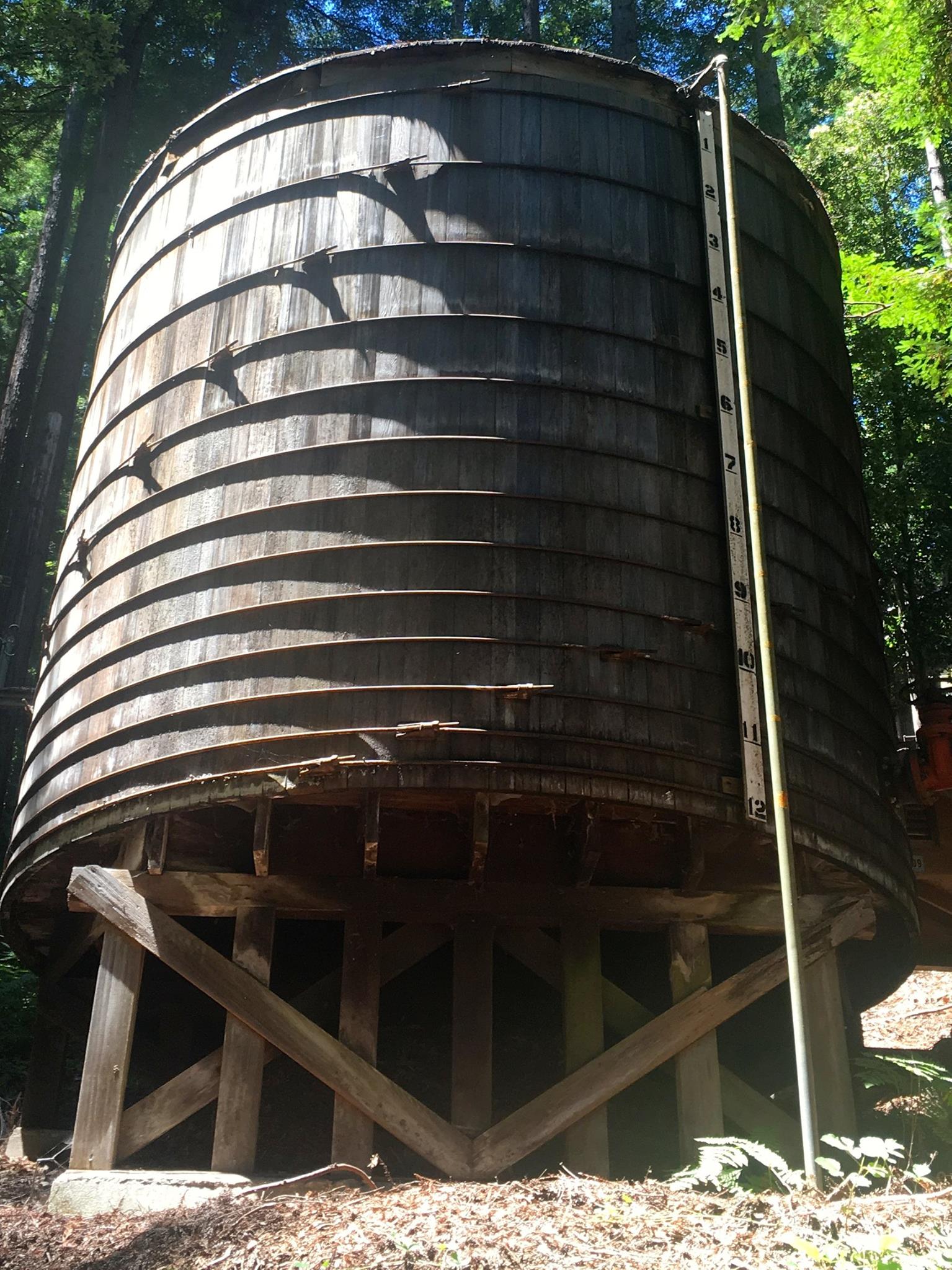 SLVWD is accepting bids
July 21, 2017
---
By Julie Horner
SLVWD is accepting bids for replacing a pair of 20,000-gallon redwood tanks used for drinking water. The bid process is open until July 28, 2017. According to a recent press release, "The tank replacement is a key capital improvement project among many others completed or in process that, combined, total $16.85 million in infrastructure upgrades to the District's 76-year-old water system."
The SLVWD Board of Directors is hoping to make its selection at their August 18 meeting. Work is scheduled to begin in late summer or early fall this year and should be completed by March 2018.
"The tanks, known as the 'Swim Tanks,' are located off Scenic Way in Ben Lomond and are part of the original water distribution system acquired by the District from Citizens Utility Company in 1965. The current tanks are undersized for the service  area and require ongoing maintenance to control leaks. The tanks will be replaced with a new 64,000-gallon bolted steel water tank at the same location. The $678,000 project includes the tank, fencing, retaining walls and electronic Supervisory control and data acquisition (SCADA) control, which enables monitoring and controlling all aspects of the water system remotely."
District Manager, Brian Lee, said, "We have a number of redwood tanks still in service in the valley. The State is coming down on these types of tanks because organic material cannot be in contact with potable water."
The project is in response to community engagement and will require no loans. "We held off to make sure we had money in the bank. This is the last project we can build from our reserves." He says that public response to proposed rate hikes to help complete this capital project has been positive. "Everyone understands that we need to get these facilities replaced and that it costs money to do that." The District hosted a special board meeting on July 13 to discuss proposed water rate restructuring.
"As soon as we secure a contractor, we'll hold a community meeting. We'll meet before, during, and after to make sure community needs and concerns are met." Any time there's a big project like this, it's disruptive. "Folks will notice us, we'll be there for a couple of months." He acknowledges that construction will put some stress on the neighborhood, including the specter of residents having to share narrow lanes with large equipment. Lee sums it up as "short term pain for long term gain." This is an investment in infrastructure, "Fire Protection 101," he says, that will span multiple generations. "These facilities last literally a lifetime. That's part of the problem with the existing facilities. They lasted someone else's lifetime."
The project also will require a Mitigated Negative Declaration describing the work as it relates to the environment. Care must be taken, Lee says, to do no harm. They may have to remove some redwood trees, and there will be some necessary grading. There will be a retaining wall and a tree buffer to help camouflage the new installation. "We'll paint the tanks a nice neutral color that blends. There's always a discussion about how we can make the tanks visibly appealing."
"This is the first of many projects that we'll be doing over the next years to modernize our system. It's a milestone for the District and the community."
Visit www.slvwd.com for more information.