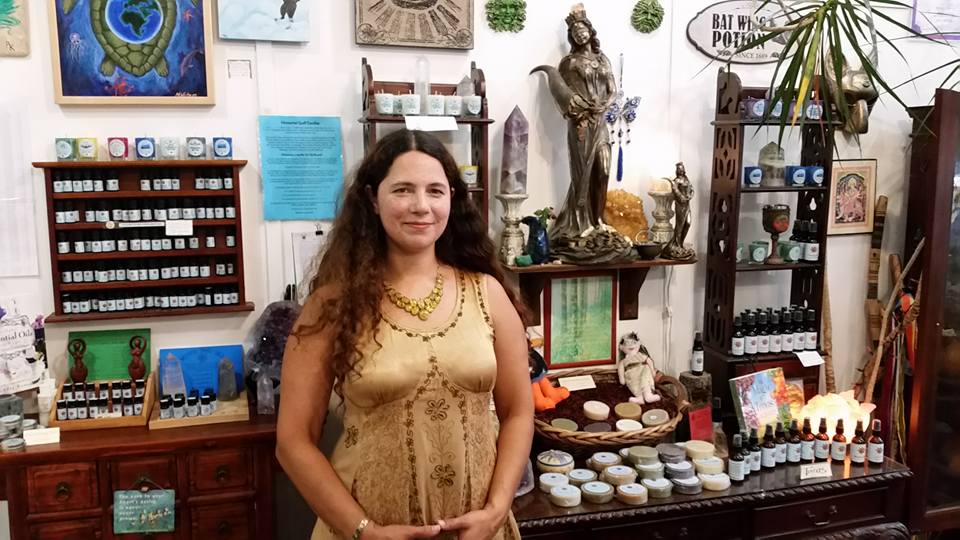 Air and Fire   
August 31, 2017
---
All the earth's elements in heart's harmony
By Julie Horner
The heady scent of fragrance oils, white sage, handmade parchment, and spice filled the space, and as the door closed softly against the press of the world, a much y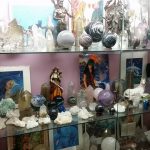 earned for calm settled upon a troubled heart. With natural openness, shop owner, Emelia Nahinu, rose to embrace a stranger. She moved with purpose among the wares, suggesting remedy from nature in the form of handmade soaps and candles, and comfort and clarity from books, music, and raw and polished crystal. Magic dwells within these walls and the spirit of the earth and the elements are represented in stone, captured in sacred essence, and available as tangible talisman to ease the soul and free the spirit.
Air and Fire is a Mystical Bazaar with crystals, stones, and statues of Gods and Goddesses from around the world. Featuring ritual tools and supplies for healing, connection, and awareness, you will also find Fairies, dragons, skulls, gargoyles, and other mystical creatures peering from their niches. "We handcraft our own natural soaps, candles, aromatherapy oils and potions. We also sell pure essential oils. We carry the works of over 50 different local artists, from handcrafted incense, to jewelry, music, books, prints, and original paintings." Air and Fire also offers tarot readings by Emelia, Reiki healings by Kathy Joy, and Holistic Nutrition consultations by the Healthy Kitchen Witch.
Air and Fire started vending magickal products and ritual supplies at festivals and PantheaCon in 1999. "In 2003, we opened up our first storefront in Boulder Creek," Emilia says. "We have been serving our local community here in the Santa Cruz Mountains ever since." Air and Fire celebrates 14 years in Boulder Creek with an anniversary sale on Wednesday, September 13, 2017.
Emelia is especially proud of what goes into the products she makes by hand. "I love using sources from nature, so pure essential oils, herbs, and crystals are utilized. But the first ingredient is love. While all the ingredients used in a particular recipe contribute a certain something to the product, to me, how it is made is equally if not more important. The energy that goes in is the backbone to all my products. Many comment on how well something works for them and how they can really feel a difference when using my products."
For the hearted-heavy stranger, Emelia suggested a raw hunk of rose quartz, the stone of the heart, paired with crystal Sulphur, which has the power to bring about extreme transformation by fostering self-esteem, enhancing inner power, and developing intuition. The stranger also received candles handmade in-house: Air (representing freshening, joy, and being carefree), to light upon the new moon, and Below and Above (wherein one visits the dark shadows of self and their opposite, the desire to reach beyond the murk to grasp higher concepts of self); a book about magickal ritual including journal keeping; a CD by mythic-Celtic singer-songwriter, Sharon Knight; and handmade soap which was to be used evenings leading up to the dark moon and prepared especially to cleanse away darkness and decay, leaving an unseen layer of spiritual protection.
Emelia uses a cold process soap making technique similar, she says, to the way her grandmother's mother did. "My soap's main ingredients are olive and coconut oils. I hand stir each batch in my cauldron blessing and charging it up, often under the light of the moon. I get excited to smell the essential oils in the soap and see the beautiful colors I can obtain with herbs. Some of my favorite herbs that contribute color to my soaps are roses, alkanet root, madder root, sandalwood, coffee, annatto seed, spirulina, and flowers. Once extracted from the molds and cut, the soap cures for about a moon cycle before it is used.
August's elementally significant series of lunar and solar eclipses and meteor shower activity will surely infuse the next batch with extraordinarily powerful healing. Visit Air and Fire: 13124 Highway 9, Boulder Creek, CA. Online: www.airandfire.com | www.facebook.com/AirandFireBoulderCreek