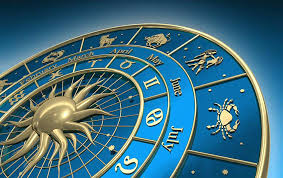 Astrology – September 2017 Horoscope
September 1, 2017
---
By Mr. Astrology
Friday, September 22, 2017 at 1:02 PM (PDT) is the fall equinox, also called the autumnal equinox. There are two equinoxes every year in March and September when the angle of the Earth's axis is oriented neither away from nor in the direction of the Sun. On this day the Sun's rays shine directly on the equator.
The autumnal equinox occurs when the Sun crosses over the celestial equator from north to south. At this time of the year, day and night hours are evenly balanced. It also signifies the first day of autumn, or fall, in the Gregorian calendar.
Leo July 22-Aug. 22 Your ruling planet the Sun faces off with Neptune on the 4th. Try to avoid seeing life solely through rose-colored glasses during this alignment. Mental Mercury enters your 3rd house of communications on the 29th. Conversations can stimulate new plans!
Virgo Aug. 23-Sept. 22 Your ruling planet communicative Mercury teams up with warrior Mars on the 3rd.  You can muscle through any test and emerge triumphant! On the 19th Venus enters your 5th house of creativity. Romance, artistic pursuits and recreation are emphasized under this influence.
Libra Sept. 23-Oct. 22 On the 17th your ruling planet Venus forms a beneficial configuration with Uranus. You enthusiastically welcome all that is new, exceptional and uncommon during this time. The Sun enters your 1st house of self on the 2nd.  If you can grace with your presence those calling out for your consideration, it is certain to be an extraordinary day!
Scorpio Oct. 23-Nov. 22 Venus enters your 11th house of community on the 19th, imparting a pleasurable sense of camaraderie and graciousness to all your social activities. On the 22nd Mercury is in an advantageous arrangement with your ruling planet Pluto. If you concentrate, nothing can interfere with your achievements!
Sagittarius Nov. 23-Dec. 21 On the 15th Venus creates a harmonious configuration with your ruling planet Jupiter. Sociability and cheerfulness characterize this alignment. You are good-natured and your emotions are expansive. The Sun enters your 11th house of community on the 22nd, making it an excellent day for entertainment and recreation!
Capricorn Dec. 22-Jan. 20 Mars enters your 9th house of journeys and higher learning on the 5th. Others seem to be especially opinionated. It is best to reserve judgment for the time being. On the 13th the Sun squares off with your ruling planet Saturn. If you're burdened by too much responsibility, don't hesitate to enlist your friends to come to your aid. Try not to be overly critical of yourself.
Aquarius Jan. 21-Feb. 19 On the 9th communicative Mercury enters your 8th house of shared resources, strengthening your intuition and making it easy for you to read between the lines. Lucky Jupiter faces off with your ruling planet unconventional Uranus on the 27th. Utilize practicality when implementing new visions.
Pisces Feb. 20-March 20 The Moon enters your 1st house of self on the 6th. As is your desire, so is your will. As is your will, so is your deed. As is your deed, so is your destiny! On the 24th Mars is in a stressful arrangement with your ruling planet Neptune. Out of the blue you are uncertain about what to count on from someone else and what it is that they require from you.
Aries March 21-April 20 On the 24th your ruling planet assertive Mars faces off with nebulous Neptune. Impressions are hazy and fleeting during this influence. Mercury enters your 6th house of health and service on the 9th. The emphasis is on health, fitness, and feelings of objectivity when it comes managing the details of your life that confer to you feelings of competency and productivity.
Taurus April 21-May 21 Your ruling planet gracious Venus is in a harmonious alignment with serious Saturn on the 12th, suggesting the possibility of taking a love relationship to the next level! On the 19th Venus enters your 5th house of creativity. Be prepared for increased love, passion and excitement! Your love life picks up speed!
Gemini May 22-June 20 On the 25th your ruling planet communicative Mercury squares off with Saturn. Conflicts may arise as to who the originator of an opinion was. The Sun enters your 5th house of creativity on the 22nd. You are more open to taking risks in order to find that special someone whom you can love wholeheartedly!
Cancer June 21-July 21 Your ruling planet the Moon enters your 3rd house of communications on the 19th. Now would be a good time to explore further education and development of new skills. On the 22nd the Sun lights up your 4th house of home and family! For the next four weeks family exchanges feel beneficial and illuminating.
Equinox means equal day and night. At this time, the theme of balance is significant. The autumnal equinox signifies the abundance after the summer growing season. Reaping the harvest, gathering together and celebrating are the rewards for labor performed and time spent. This is an occasion to relax and to take pleasure from life at its most fruitful.
While the first day of spring signifies a time of rebirth, the first day of autumn indicates the reappearance of conditions that encourage slowing down, preservation, reflection, and preparation for the future. Have a great month, and always remember: Keep looking to the stars!