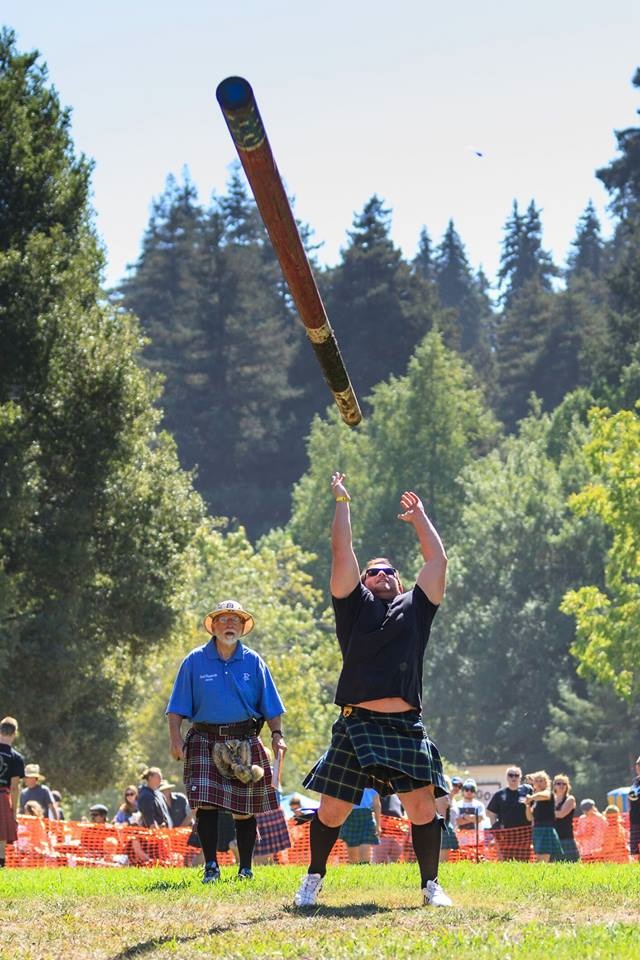 Santa Cruz Mountain Sol Fest & Big Trees Scottish Games
October 6, 2017
---
Felton's Final Fanfare to Summer Festivals
By Julie Horner
Amber hues and a tinge of wood smoke suffuse the final local music festivals of summer as Roaring Camp welcomes the annual Santa Cruz Mountain Sol Festival and Big Trees Scottish Festival and Highland Games to The Meadow. Hundreds of music lovers, families, and followers of Celtic traditions are expected to fill the welcoming outdoor gathering place adjacent to Henry Cowell State Park in Felton, CA.
Santa Cruz Mountain Sol Fest – September 23 & 24
11:00 am – 7:00 pm Saturday and Sunday
Roaring Camp, 1501 Graham Hill Road, Felton
Tickets and info: www.santacruzmountainsol.com/2017/
Featuring Michael Franti, The Wailers, The California Honeydrops, Elephant Revival, and many more.
"It's a great setting – a unique setting – and family friendly. Perfect for a day show event," says stage manager Mark Mason.
"A production colleague of mine, Jeff Sloan, veteran of many years, offered me a production opportunity at the Sol Festival last year. 'Hey, Mark, what do you think about filling in for me here (at Mountain Sol).' It turned out that I actually knew Michael Horn, the festival's promoter, from Pulse Productions…he's the former owner of Palookaville. It was a nice reunion to work with him again and his partner, Steven Wyman."
Now in its 5th year, Santa Cruz Mountain Sol Fest is a fully fledged musical experience. Behind the scenes, Mark and his team are a well-oiled machine. "I enjoy seeing it come together for the audience and everyone on stage." Michael's the promoter, he and Steve secure the artists, my team executes the game plan from there. We hire a staging company for lighting and sound and stage hands. It will take about two days to build the stage setup before people start walking through the gate. It's nice to be in on the beginning of something great."
Famous for pulling together an eclectic mix of performers, Santa Cruz Mountain Sol Fest offers a grooving musical experience to satisfy every craving. "It's always great to see the legends. This year I'll be looking forward to seeing the Whalers, who I understand will have a few of their original band members. And Michael Franti & Spearhead – It's, like, conscious R&B and soul. I love the opportunity to come down here and be with the community…it's what it's all about."
Big Trees Scottish Gathering and Highland Games – October 7
10:00 am – 7:00 pm Saturday
Roaring Camp, 1501 Graham Hill Road, Felton
Tickets and info: http://bigtreescots.com/
Featuring Tempest, The Fire, The Gallowglasses, and more.
According to event creator, Jeff Simpson, "This year promises to be the best year yet. We have expanded and are now occupying Bret Hart Hall, which will be home to the all-new Numpty's Tavern featuring main stage acts Tempest; The Fire, featuring our own hometown success story, David Brewer, with world renowned fiddler, Rebecca Lomnicky; as well as Native Scots singer-songwriter Peter Daldry." The hall will also house a tea room with authentic Welsh cakes, tea, and coffee.
"Also new for this year, a sheepdog herding Indian runner ducks demonstration – a big hit with the children – Scottish Backhold wrestling competition, Celtic ponies, as well as heavy athletics competition, full contact armored sword fighting, and archery demonstrations." The Celtic Marketplace is also expanded. "We'll have living history displays with the royal Stewarts Mary Queen of Scots, The Dark Boar Vikings, and a blacksmith," Simpson says. And, of course you will experience the finest in traditional food, local ale and wine, plus highland dance, Scottish fiddlers, and the Santa Cruz Pipes and Drums.